About the company
LITERA fuel company is a trader of oil products on the territory of the Russian Federation. The main activities of "Litera" LLC are supplies of petroleum products, petrochemical products, delivery and installation of fuel tanks. The company aims to implement a program of sustainable development, daily improving its trading activities through increased sales efficiency and introduction of innovations.
Objectives and goals
To develop a corporate identity and company website. The company's website should feature a product catalog and order form, the information from which flows to the organization's trading platform for follow-up.
Objectives:
Creation of the company's image
Informing about products sold and the company in general
Obtaining visitor contacts (forum or registration form)
The design must:
be simple and modern
provide easy and intuitive navigation on the website
create a positive and comfortable atmosphere
the design is designed for a minimum screen resolution of 1024 × 768 pixels or a universal size
design should be adapted for all devices, computers and other gadgets
Result
Download corporate identity presentation
Logo
The logo consists of a graphic element and font spelling of the company name in Russian.
The graphic element is a combination of several visuals at once--the stylized letter "L" as the first letter of the name, the fuel drop as a direct reference to the business area, and the up arrow as a testament to the company's dynamic growth.
The stark, sparse grotesque lettering combined with the overall symmetry of the composition emphasizes stability and seriousness.
The predominant color of the sign is dark and cool, but through the use of bright accents, the sign is easily recognizable and well remembered against the competition, even when the typeface writing and graphic element are used separately.
Business cards and such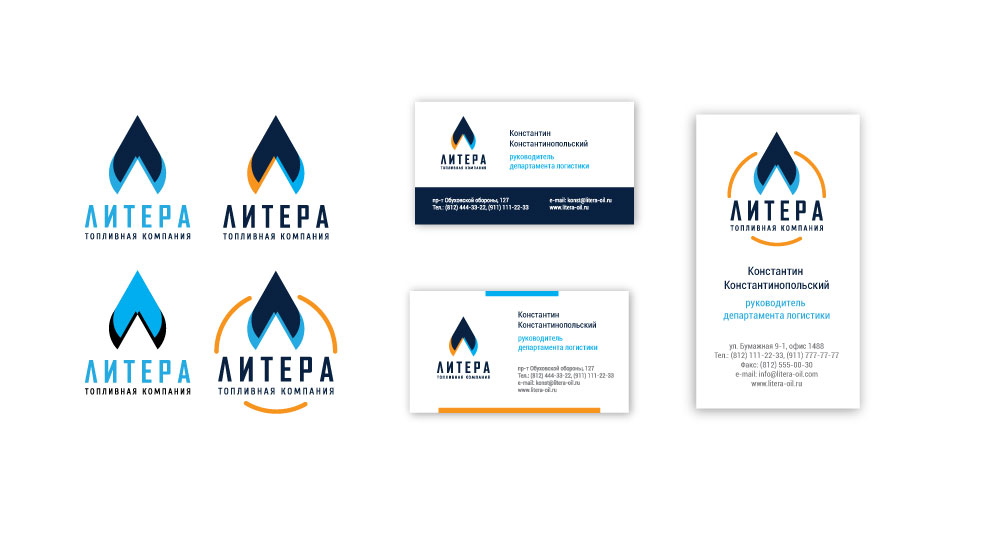 Site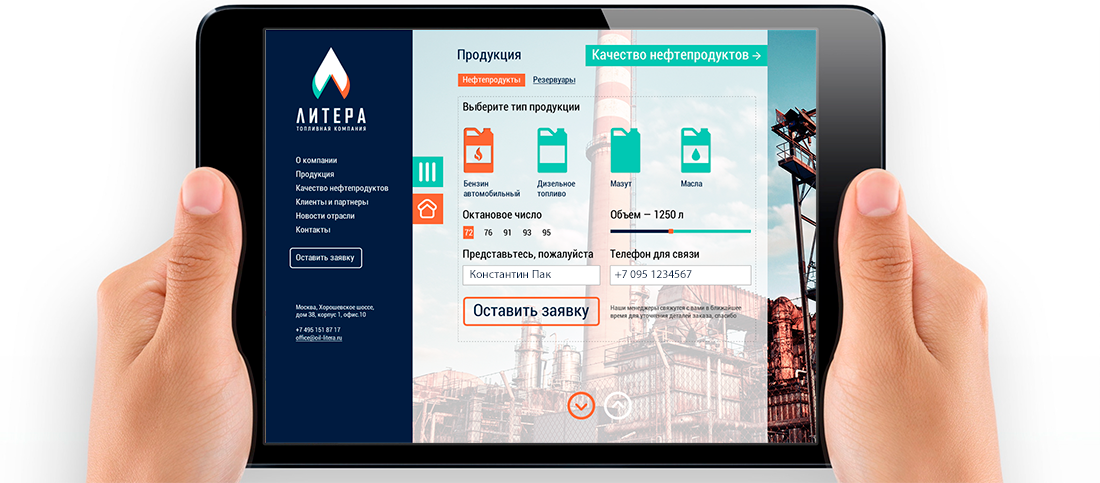 Applicative coding adjusts page design based on user behavior, platform, screen size, and orientation of the device and is an essential part of modern web development. It saves significant money by not having to redraw a design for every resolution, but rather to change the size and layout of individual elements. We've tried to help ensure that your site works on all devices and resolutions.